Wednesday 9 December 2020
Online Arts Industry Conference
ArtsHub's Visions 2020 conference brings together artists, arts workers and organisations from across artforms and across the country to explore our shared challenges and celebrate innovations as we move forward from this turbulent year.
This event has ended, If you have registered for tickets you will be able to access some recordings.
Wednesday 9 December 2020 | 11am - 3.30pm (AEDST)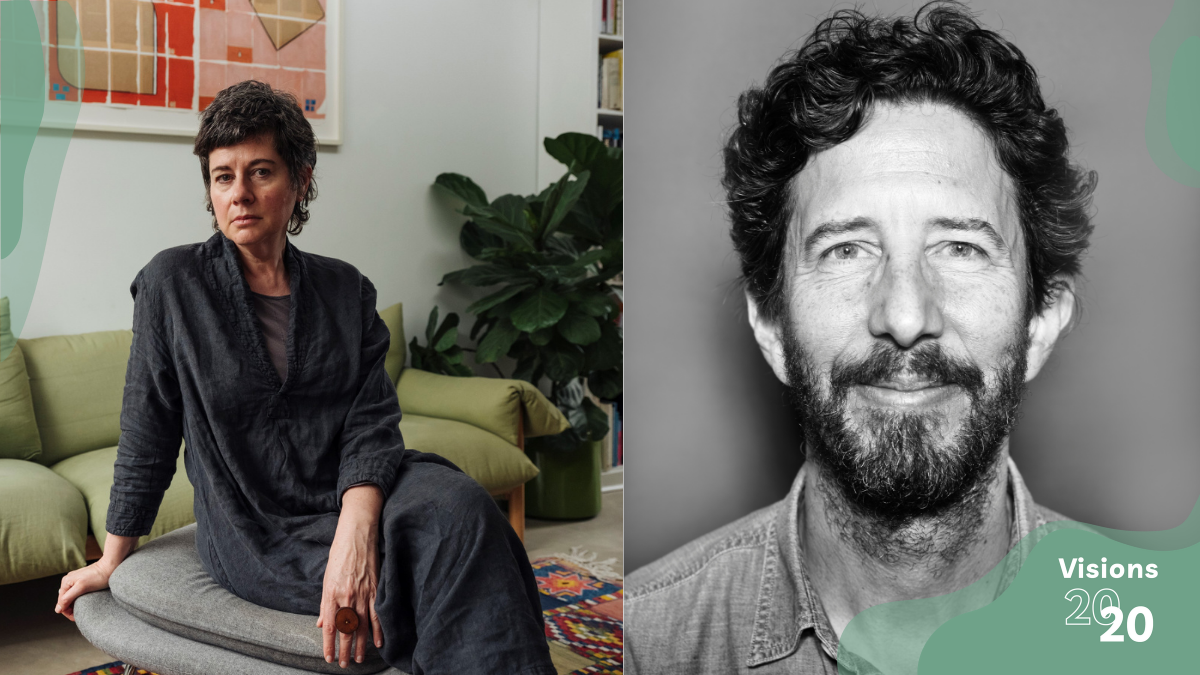 Image: Sophie Cunningham & Jose Roca will discuss art's role in change in Art and the Anthropocene.
Keynote - Hyperallergic editor: Hrag Vartanian
Session 1: The future of funding
Dr Jackie Bailey, BYP Group (Facilitator)

Shelagh Magadza, Executive Director Chamber of Arts and Culture WA
Dr Terry Wu, Board Member of ACMI (Australian Centre for the Moving Image)
What are the alternatives to government funding? We look at the state of arts funding as the arts sector develops new ways to be financially secure. From sustainable self-funding to collective arts culture banks, what are the optimistic and practical visions for a thriving arts sector?
Session 5: Art and the Anthropocene
Sophie Cunningham AM, esteemed author, editor and publisher
José Roca, Colombian curator heading the next Biennale of Sydney
With a long history of protest, the arts are now calling for action on the climate crisis and to create sustainable futures. As well as looking at reducing the impact of arts practices, the arts have a unique role in bearing witness and advocating for change. How can the arts sector respond to the crisis and mobilise audiences into action?
Session 2: Celebrating the hyperlocal
Brian Ritchie, curator of MONA FOMA and bassist of the Violent Femmes

Louise Bezzina, Artistic Director of Brisbane Festival and founder of Bleach* festival
The last year has brought us all back home and made us appreciate our own cultural backyards. From arts events inspired by bushfire to a new appreciation of community collaborations, hyperlocalism has fostered resilience and made sense of global issues. We look at how a new appreciation of homegrown arts and artists has shaped two of our biggest events, Brisbane Festival and MONA FOMA.
Nici Cumpston, Artistic Director of Tarnanthi (Art Gallery of South Australia)
Ben Eltham, writer and journalist at Crikey and policy expert
Session 3: Creating culturally safe arts spaces
Ana Tiwary, Diversity in Australian Media (Facilitator)

Dawn Casey, former director of the National Museum of Australia
In an art world dominated by colonial preconceptions, casual and unconscious racism can create an uncomfortable, even unsafe environment for First Nations artists and artists of colour. With the voices of activists now too loud to be ignored, how can power shift to displace the white gaze? We explore what cultural safety can look like for arts practices and decision-making.
Session 4: Post-pivot digital and access
Hanna Cormick, performing artist, curator of PLATFORM Live (Facilitator)

Gayle Kennedy, writer, editor and disability advocate
Madeleine Little, recipient: 2019 Arts Access Australia National Leadership Award

COVID-19 has pushed many of us online, with more works and events more accessible than ever before for people with a disability and for regional audiences. But while the Zoom boom has made it easier to attend, some artists and audiences continue to be excluded as accessibility is still an afterthought. As we move into a new normal, how do we make enriched accessibility a starting point for the arts?
Meet our Program Advisory Group
As a small arts organisation we know we can't speak for everyone, so our esteemed Program Advisory Group has helped steer the themes and content for Visions 2020.



© 2000-2020 ARTS HUB AUSTRALIA PTY LTD